It's DIY Week for the weekly NFL thread because (a) I don't have any coherent thoughts about Week 12 and (b) I have another two hours of paid writing ahead of me tonight.
Also, I have no words to describe whatever the hell this is that turned up at the Jags game:
Yeesh.
Let's skip right to the WEEK 13 SCHEDULE because there are a ton of great games this weekend.
Thurs: *Bills-Patriots* (Prime)
Sunday early: Steelers-Falcons, Broncos-Ravens, Packers-Bears, Jaguars-Lions, Br*wns-Texans, *Jets-Vikings*, *Commanders-Giants*, **Titans-Eagles**
Sunday late: Seahawks-Rams, *Dolphins-Niners*, **Chiefs-Bengals** (national GOTW), *Chargers-Raiders*
Sunday night: Colts-Cowboys (NBC); I don't know why this game wasn't flexed into space OH I KNOW COWBOYS. At least Dallas is watchable this year.
Monday: Saints-Bucs (ESPN) for momentary control of the tire fire that is the NFC South; thank goodness the ManningCast is back
Byes: Cardinals, Panthers (thank god because I won't feel guilty if I don't watch)
Coverage maps are here; NC gets Steelers-Falcons (blah) and Titans-Eagles (OK).
POWER RANKINGS
From ESPN this week.
Your top 5: Chiefs (1st last week), Eagles (2nd), Bills (3rd), Cowboys (5th), Dolphins (4th)
Biggest gainer: Raiders +7 (to 20th) after winning their second straight OT game; ESPN notes that they have a decent chance of running the table (and finishing 11-7) because they face the Chargers, Rams, Patriots and Steelers (combined 18-25), then the Niners (probably an L but weirder things have happened) and the Chiefs (who might take off Week 18). Watch the Raiders, is what I'm saying.
Biggest loser: Cardinals and Colts, both -5 to 25th and 27th respectively. Looks like Kliff could be the next Koach Kanned, while the Colts can't seem to manage the clock (or block or catch or run).
IF THE SEASON ENDED TODAY ...
(link)
AFC division winners: Chiefs, Dolphins, Titans, Ravens
AFC wild cards: Bills, Bengals, J-E-T-S Jets!
Next two: Patriots and Chargers (both at 6-5)
NFC division winners: Eagles, Vikings, Niners, Bucs
NFC wild cards: Cowboys, Giants, Commanders*
Next: Seattle (6-5); everyone else has a losing record)
* The NFC East probably won't end up with four teams in the playoffs. The Giants, for instance, still have four divisional games left, while the Commandos have three.
No team has been eliminated (yet! not even the Texans), but Football Outsiders gives two teams (Bears and Texans) a Blutarski (0.0%) of making the playoffs and five other teams a playoff chance of 1% or less (your defending Super Bowl champion Rams, Cardinals, Colts, Texans, Broncos). Even the HEY DARNOLD Panthers have more hope than this!
Top 5 picks in the 2023 draft: Texans, Bears, Lions (via the Rams), Seahawks (via the Broncos), Panthers (via Tankathon)
Get it up for Week 13!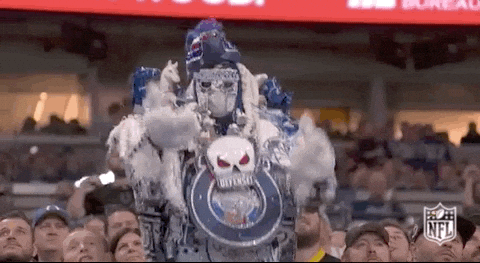 Bet this guy can manage a clock better than the Colts' interim HC. I mean, to get dressed in time to make the game takes some serious time management skills.