Christmas was Saturday, and Santa delivered: BIG MAN TOUCHDOWNS. Four of 'em!
Will Richardson Jr. (Jags) recovered a fumble in the end zone. Conor McDermott (Jets), Lane Johnson (Eagles) and Terence Steele (Cowboys) each caught TD passes. You can watch all four plays here.
According to The Ringer:
So far as I can tell, this was NFL history. There have now been 75 receiving touchdowns by offensive linemen since 1950, according to Pro-Football-Reference. Never before have there been three on one day. There were two linemen receiving touchdowns on December 12, 2010, but that was the previous record. There had been only two receiving touchdowns by offensive linemen this season, and there were only two all of last season. Then we got three in one day.

Why now? Why, all of a sudden, did three teams realize that giving the ball to their biggest players could have a big payoff? I have a theory. Big Man Touchdowns are skewed toward the end of the season. Of the 28 offensive linemen making touchdown receptions since 2008, two were in September, three were in October, 11 were in November, and 12 have been in December. This checks out from a strategic perspective. You can't run this play twice in a season—it's very easy to defend if anybody actually defends the lineman—so I'm guessing teams get to the end of the season and realize they can either use it or lose it. Either that, or offensive linemen are simply more capable of surviving in lower temperatures because their excess blubber insulates them from colder weather.
Speaking of The Ringer, you should probably be reading its Winners/Losers column that runs every Monday during the season. Good stuff.
And speaking of the Jags, here's a nice shot of Richardson's fumble recovery. Let me know what else you notice in that photo.
BEST PRESSER OF THE WEEK
Joe Burrow says things after coming in at No. 4 on the NFL single-game passing yards leaderboard:
Q: Did you see (Ravens defensive coordinator) Wink Martindale's comments about not giving out gold jackets just yet?
Burrow: Yeah, I did.
Q: Did that mean anything or resonate to you at all?
Burrow: I think it was an unnecessary comment. I wouldn't say I was offended by it. I'm in year two. Who knows what's going to happen down the road? I didn't think it was a necessary comment.
Q: Was it on your mind as you were throwing for 525 yards?
Burrow: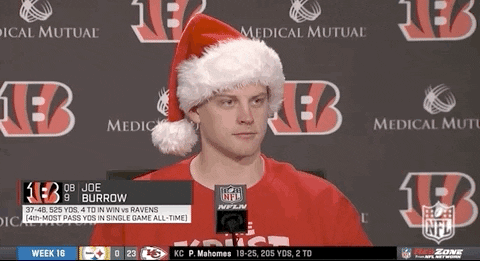 One of these days the Ravens will get healthy and it'll be RIP Joe Burrow. Or maybe he'll throw for 600. Either way, I can't wait. The AFC North rules.
PLAYOFFS WATCH
Congrats to the Chiefs, Cowboys, Rams, Bucs and Cards, who clinched playoff spots in Week 15.
And congrats to the fans of the Jags, Lions, Texans, Giants, Jets, Seahawks, Bears and Panthers, who can stop pretending that they have a shot at the playoffs because their teams are toast.
If the playoffs started today:
* = clinched; **= division winner
AFC seeds (1-7): Chiefs** (11-4), Titans (10-5), Bengals (9-6), Bills (9-6), Colts (9-6), McCorkles, Dolphins (8-7)
AFC bubble teams: Chargers, Raiders, Ravens (all 8-7)
NFC seeds: Packers** (12-3), Cowboys** (11-4), Rams* (11-4), Bucs** (11-4), Cardinals* (10-5), Niners (8-7), Eagles (8-7)
NFC bubble teams: Vikings, Falcons, Saints (all 7-8)
POWER RANKINGS
Via NFL.com:
1. Packers (1 last week)
2. Chiefs (2)
3. Rams (4)
4. Bucs (3)
5. Colts (6)
Biggest gainer: Raiders (+5 to 16th)
Biggest loser: Cardinals (-5 to 10th)
MVP WATCH
Oh lord it's going to Aaron Rodgers isn't it. I'm sure Jake from State Farm will be happy for him.
PANTHERS MEDIA OF THE WEEK
This is a real quote from the Panthers HC:
My reaction: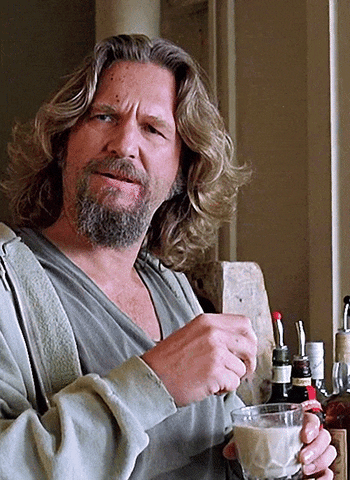 Here's the guy the Panthers will start at QB this week:
I'm done with this team for this season. They're bad, boring and unwatchable. When Pat McAfee of all people calls the Panthers a high school program, it's time to watch something else on Sunday afternoons.
PS: A Charlotte radio guy asked for rap names for Matt Rhule. The best: Zero Cents, Sir Lose A Lot, Lil Process and Ja Rhule.
WEEK 17 SCHEDULE
No Thursday or Saturday games this week, boo.
Sunday early: Eagles at Footbrawlers, *Rams at Ravens*, Bucs at Jets, Dolphins at Titans, Jags at Patriots, *Raiders at Colts*, *Chiefs at Bengals*, Giants at Bears, Falcons at Bills
Sunday late: Texans at Niners, Broncos at chargers, Lions at Seahawks, **Cardinals at Cowboys** (GOTW), The Thousand Percenters at Saints
Sunday night: Vikings at Packers
Monday night: Browns at Steelers (with ManningCast!)
BEFORE WE GO
Gridiron Heights has some thoughts on the MVP race:
I'm taking the red ball.