So that happened.
There are lots of superlatives in sports. Game after game is "THE GREATEST GAME EVER" and player after player is "THE GREATEST PLAYER EVER" and nothing is more tired than the constant overexaggeration of this significance of individual sports moments before we've all had time to sit down, relax, and get a chance to really consider how those moments fit into the historical record of sports.
That being said . . .
That is the single greatest final play in the history of the NFL. Sure, it's just the divisional round, and the Super Bowl itself has a whole host of great endings between Santonio Holmes and Malcom Butler and multiple Vinatieris and so many others. This doesn't have those stakes, but . . . 61 yards? On a final playl? In a game that had featured two prior lead changes in the last two minutes, incredible catches, a 4th down conversion, and, most of all, was in the home of a team that is known for one thing more than anything else; blowing playoff games. Sure, it's probably recency bias and some local fandom, but that was beyond unbelievable. That was the greatest play ever. Until the next one.
Now . . . let's talk about Nick Foles. Nick Foles had a magic year in 2013; he completed 64% of his passes, had 27 TD and only two INTs, and led the league in TD%, yards/attempt, yards/completion, and QB rating. That year, he was simply amazing. The rest of his career?
He's been Nick Foles.
Foles is, in a six-year career, essentially the definition of backup QB; he can come in and spot start with some vague competence, but you can't expect much. Why? Because, outside of that year, he hasn't delivered much. In the five years outside of 2013, he's been marginal at best. And, last I checked, it's not 2013 right now. Here, for the heck of it, are the stats for three players for comparison purposes.
C% TD% INT% Y/A
Player 1 64.0% 8.5% 0.6% 9.1
Player 2 58.9% 5.3% 4.2% 6.4
Player 3 60.4% 3.9% 3.1% 6.8
Player 1 is phenomenal; it's Nick Foles in 2013. Player 2 is Nick Foles the other five years of his career. Player 3?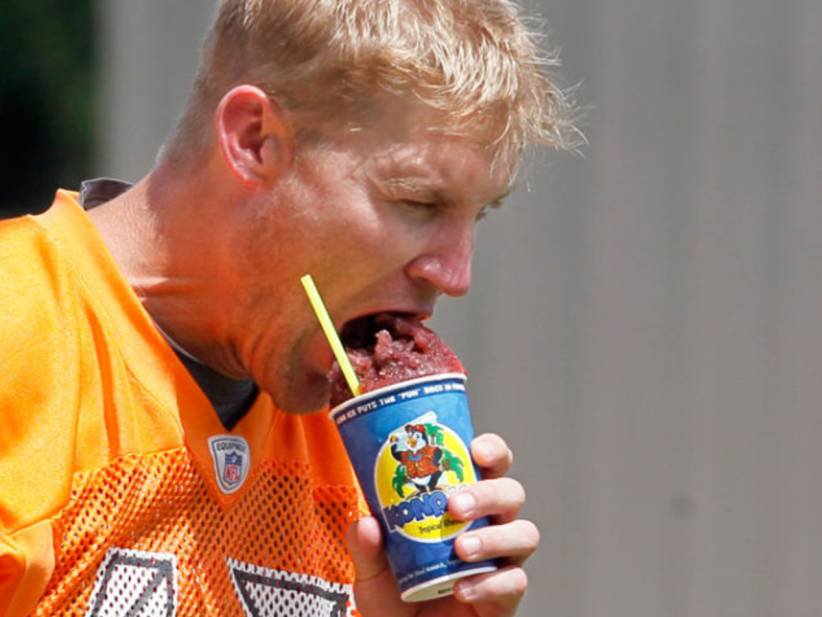 Player 3 is the ultimate veteran journeyman quarterback; Josh McCown. When you pull out the magic year of 2013, Foles edges McCown in TD%, but has a worse completion and INT%, and a lower YPA. Sure, we could pull out McCown's half-season of actual competence in Chicago some years back and that might shift the numbers a bit, but, really, it wouldn't make much of a difference. Career-wise, Nick Foles has been pretty much the definition of . . . "meh". Nick Foles in 2013 is Mark Rypien in 1991 or Scott Mitchell in 1995 or HEAVY SIGH INCOMING Josh Freeman in 2010; the one year everything hit right before the player imploded into at-best mediocrity.
There's also a reasonable chance that 2017 is Case Keenum's version of that. In the end, though, Keenum's penchant for less-than-perfect throws isn't as big of a deal, as the Vikings receiving duo of Stefan Diggs and Adam Thielen keep bailing him out with incredible catches. Keenum fits this team well, but you mess up the offensive line or get rid of Diggs or Thielen, and he probably falls apart without all the perfect pieces. Those pieces exist, so, barring some injuries, he's likely a much better QB this coming weekend than Nick Foles.
Wait, is Doctor Who an Eagles fan? Can he go back in time and un-destroy Carson Wentz's knee? If so, Eagles. If they're stuck with Nick Foles? Vikings.
Anyways . . .
At some point, you have to pay the cost for Blake Bortles, right?
I mean, not in a new contract (which would be HI-LA-RI-OUS, by the way). It just seems like at some point, you have to pay the proverbial piper for trying to win with somebody as awful as Blake Bortles. Blake Bortles has improved greatly this year to be profoundly mediocre; his DVOA was 0.3%, ranking 16th. He had 405 DYAR, ranking 15th. The three prior years (2016, 2015, 2014) he ranked 24th, 25th, and 43rd in DVOA and 23rd, 25th, and 44th in DYAR. Blake Bortles has been consistently awful, famously waiting until his fourth year as starter to actually have more wins as a QB than pick-sixes thrown.
Has he been better? Sure. He's been helped by a phenomenal defense and a solid running game, which he needs, because he still hasn't been good. The Jaguars have won two games this year where he passed for less than 100 yards, which is almost inconceivable. Yet, they keep winning.
The thing is, the standard book on Bill Belichick is (NO NOT CHEATING SHUT UP GURU) figure out one thing your team is good at, and take it away. It's pretty logical to assume that thing in this case is the running game, so the Patriots will be betting Bortles can't beat them. Jacksonville is lucky that the current forecast is a high of 43 on Sunday so at least it's not too terribly cold, but asking a team like Jacksonville and particularly a player like Blake Bortles to come into New England and win is a tough idea.
Also, Blake Bortles sucks.
So, anyways, I'm picking the Minnesota Vikings to meet the New England Patriots in the Super Bowl.