Starting with something garion posted in last week's thread, as it made me think . . .
garion333 wrote:
I just had a thought:

Since Jerome Bettis is in the Hall of Fame won't we also need to put Josh McCown in there?
Even I think that's an unfair comparison, and I think it's clear Jerome Bettis is one of the least-deserving people in the HOF. Bettis was really good for a few seasons, and was an effective, if limited player for the great majority of his career, and only stumbled into Canton because he was a likeable, popular guy who stuck around long enough to slowly wheeze his way up the career rushing totals. Without any exaggeration at all, if Chris Berman didn't like going BOOOMPH and called him "The Bus" repeatedly on highlights, there is absolutely zero chance Jerome Bettis is in the HOF.
Josh McCown has been completely terrible for almost his entire career, and his continued employment is just mind-boggling. He's genuinely good this year, just like he was for half a year in Chicago a few years back. Other than that, he's been invariably awful.
I was thinking, I needed a better comp for Bettis' career from a QB perspective, because McCown doesn't work. Basically, I look at Jerome Bettis as a guy who had a few really great seasons when young, occasionally managed to throw up a Pro Bowl worthy season in the middle of his career, and eventually hung around long enough to move up the career yardage totals board to make things look impressive, even though by any kind of efficiency stat. vs. pure accumulation, he wasn't notably great in any way. The QB version of Jerome Bettis?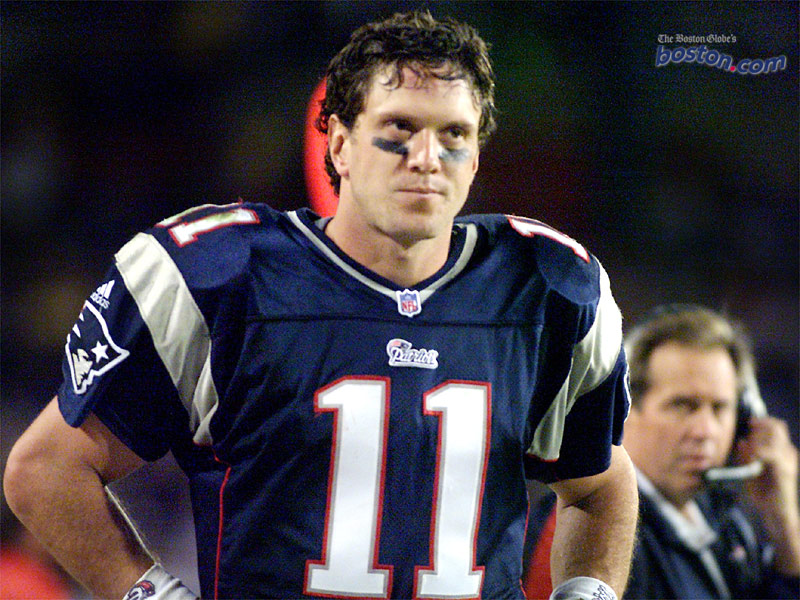 No, really. Drew Bledsoe is QB Jerome Bettis. When I looked at the stats, it made sense to me, and that was even before I realized (A) they were both drafted in 1993, and (B) Bettis played with Rick Mirer at Notre Dame, and Mirer vs. Bledsoe was the original Ryan Leaf vs. Peyton Manning (with less implosion and/or prescription drug addictions). Even without those links, Bettis and Bledsoe:
Were often considered very good, but rarely great compared to their peers; Bettis had five Pro Bowls and two All-Pros, Bledsoe had four Pro Bowls and zero All-Pros.
Rarely led the league in any significant categories. Bettis never led the league in yards or TDs, Bledsoe led the league in attempts, completions, yards, and yards/game his second year, which would be more impressive if he hadn't led the league with 27 INTs.
Both stuck around long enough to move up the charts. Drew Bledsoe is 14th in career passing yardage, ahead of Dan Fouts, Joe Montana, and Johnny Unitas. Nobody would vaguely indicate he was great because he stuck around long enough to pass them. After Frank Gore passed him this weekend, Bettis has dropped to 7th in career rushing yardage, but is still ahead of Eric Dickerson, Tony Dorsett, Jim Brown, and Marshall Faulk, because nothing says "all-time great" like "refusing to retire".
Each had obvious flaws; Bledsoe's TD/INT ratio is . . . not great, and Bettis was such a detriment in the passing game even Adrian Peterson makes fun of him. Fun fact; Bettis played in 192 regular-season games. He had 200 career receptions.
It's one of the standard What Ifs of the last 20 years of the NFL; what if Bledsoe doesn't go down, Tom Brady doesn't come in, and the Patriots still manage to win that Super Bowl over the heavily-favored Rams. Is that as likely? No; Bledsoe's tendency to take sacks and throw picks is exactly the kind of QB Belichick would hate, and it probably sinks that team's chances. That being said, let Bledsoe have one of those "Flacco Postseasons", and, while you're at it, make him as telegenic and likeable as Jerome Bettis, plus have Chris Berman come up with some "Drew-be-do-be-doo" nickname he yawps over highlights every time Bledsoe throws a long TD. He's got the career totals, so, with the ring and the likeability, I can't see why Drew Bledsoe couldn't belong in the HOF just as easily as Jerome Bettis in that case.
Spoiler:
Somewhere here there is a lurker Steelers fan who now wants to stab me. Also, while you're at it, while Jerome Bettis is the starting RB on the "Why the hell are you in the HOF", Lynn Swann is absolutely one of the starting wideouts.
So, to give Legion a binky, more Frank Gore. The aforementioned Gore aforementionedly moved up to fifth on the all-time yardage list, and, to bash on Fat Art Monk some more, did it so much more impressively. Legion posited that, after LaDanian Tomlinson, Gore is the second-best RB of his generation (which, for convenience sake, let's call "drafted after 2000"). Legion is, of course, wrong.
Gore is the third-best RB of his generation. And, really, the argument for Tomlinson vs. Adrian Peterson is actually surprisingly difficult, and I figured LdT would run away with this.
Tomlinson was a TD machine and a phenomenal all-around back, having at least 40 catches in every season except for his awful last season in San Diego (when he had 20). Double-digit TDs his first nine season, 1,000+ yards his first eight, and 88.6 yards/game as a Charger (because focusing on the younger years for a QB seems a kinder thing to do, really) is really impressive.
That being said, I have never, ever seen a running back put defenses into a constant state of pants-sh*tting terror like Adrian Peterson did. Peterson's big negative (other than being subhuman, child-beating garbage) is not fumbling or receiving, it's durability; Peterson only played in all 16 games four times during his entire career. In three of those seasons, he led the NFL in rushing. In the other one, he led it in TDs. Peterson averaged 95.5 yards/game as a Viking, and even managed to average more than two catches per game as well (nothing compared to LdT, but double Bettis' number). While Peterson is somewhat known as a fumbler, PFR lists him with 42 fumbles in 12 years; Frank Gore has 45 in 13.
Frank Gore is a great all-around back, and I'm a firm believer in the idea that durability is absolutely one of the critical factors in being a good player, and Frank Gore is somehow still producing at an at least decent level at 34. As an all-around back, he's at 2.3 catches/game, as opposed to 1.9 for AP and 3.7 for LdT. Given a career, I'd take LdT just due to his flexibility, durability, and overall skillset, but, if you offered me young AP vs. LdT . . . that's a really tough choice. As good as Frank Gore has been, I can't imagine anyone choosing him over AP in his prime. AP was just too damn great.
A few brief thoughts:
Rob Gronkowski is a jerk. Marcus Peters is a jerk. Every single goddamn player on the Steelers and Bengals is a jerk.
Ben McAdoo stuck around just long enough to ruin Eli's starts streak. Between his uninspirational fumbling on the sidelines, and Jerry Reese's terrible drafting, the Giants currently have two wins, an old QB, a terrible line, and zero cap flexibility.
I would hate Roger Goodell getting a contract extension if it didn't make Jerry Jones so unhappy. But, it, does, so congrats, Roger.
Nathan Peterman really improved in his second outing as the Bills QB. 6/15 for 50 yards is, comparably speaking, pretty great.
The Browns had an early lead vs. the Chargers. Three games left, guys.
THE GAMES
MAKE YOUR GAME PICKS HERE
Indianapolis Colts at Buffalo Bills: One of the things that really sucks about taking over the NFL thread is I make my picks early in the week, and I'm making this assuming Tyrod Taylor is back. Not that Taylor has been good, it's just that if you gave me the Browns vs. the Nathan Peterman Bills, I'd be taking Cleveland.
Detroit Lions at Tampa Bay Buccaneers: Matthew Stafford is gimpy, and maybe he doesn't play. It actually doesn't matter. Tampa held Brett Hundley to 13/22 for 84 yards, and lost. I did hear the Tampa pass rush has started rushing Matthew Stafford now, and there's a decent chanCe they might be able to get to him by the middle of the third quarter.
]b\Minnesota Vikings[/b] at Carolina Panthers: The Panthers have a great offense if the Legends of Tomorrow show up and take their team back to 1925, so they can play with a bunch of other teams that don't have any WRs. I will never understand how this team could take Cam Newton in his prime, and the best WRs he's ever had are a fat guy they dumped for peanuts to Buffalo, and Ted Ginn, who was born without hands.
Philadelphia Eagles at Los Angeles Rams: Consecutive West Coast road games for the Eagles? That's brutal; teams that have to go across the country have a tough time.
Seattle Seahawks at Jacksonville Jaguars: Traveling kitty corner across the country to play a game? That's brutal; teams that have to go across the country have a tough time. I do suspect Jaguars players will be looking for revenge on the team that gave them Gus Bradley.
Week 13 Results
iaintgotnopants: 4-1
LeapingGnome: 4-1
garion333: 4-1
Infyrnos: 4-1
Rat Boy: 3-2
ballnchained: 3-2
Zaque: 3-2
MilkmanDanimal: 3-2
Torq: 2-3
TheGameGuru: 2-3
Vector: 2-3
PorkSmoothie89: 2-3
EvilDead: 2-3
Jayhawker: 2-3
Abu5217: 2-3
*Legion*: 2-3
oldmanscene24: 2-3
karmajay: 2-3
kaostheory: 2-3
Oddsmakers: 2-3
cube: 1-4
Season to Date
*Legion*: 43-22
Oddsmakers: 41-24
ballnchained: 40-20
PorkSmoothie89: 39-26
MilkmanDanimal: 39-26
oldmanscene24: 38-27
TheGameGuru: 37-28
Infyrnos: 37-28
Rat Boy: 37-28
tboon: 37-23
iaintgotnopants: 36-29
Vector: 36-29
karmajay: 33-32
garion333: 33-22
cube: 32-28
LeapingGnome: 31-34
kaostheory: 31-24
Jayhawker: 31-29
EvilDead: 31-29
Zaque: 29-36
Torq: 29-26
Abu5217: 28-32
UpToIsomorphism: 27-23
sr_malo: 27-28
Kush15: 15-20
Jowner: 5-5
Nomad: 4-1
Minase: 4-1